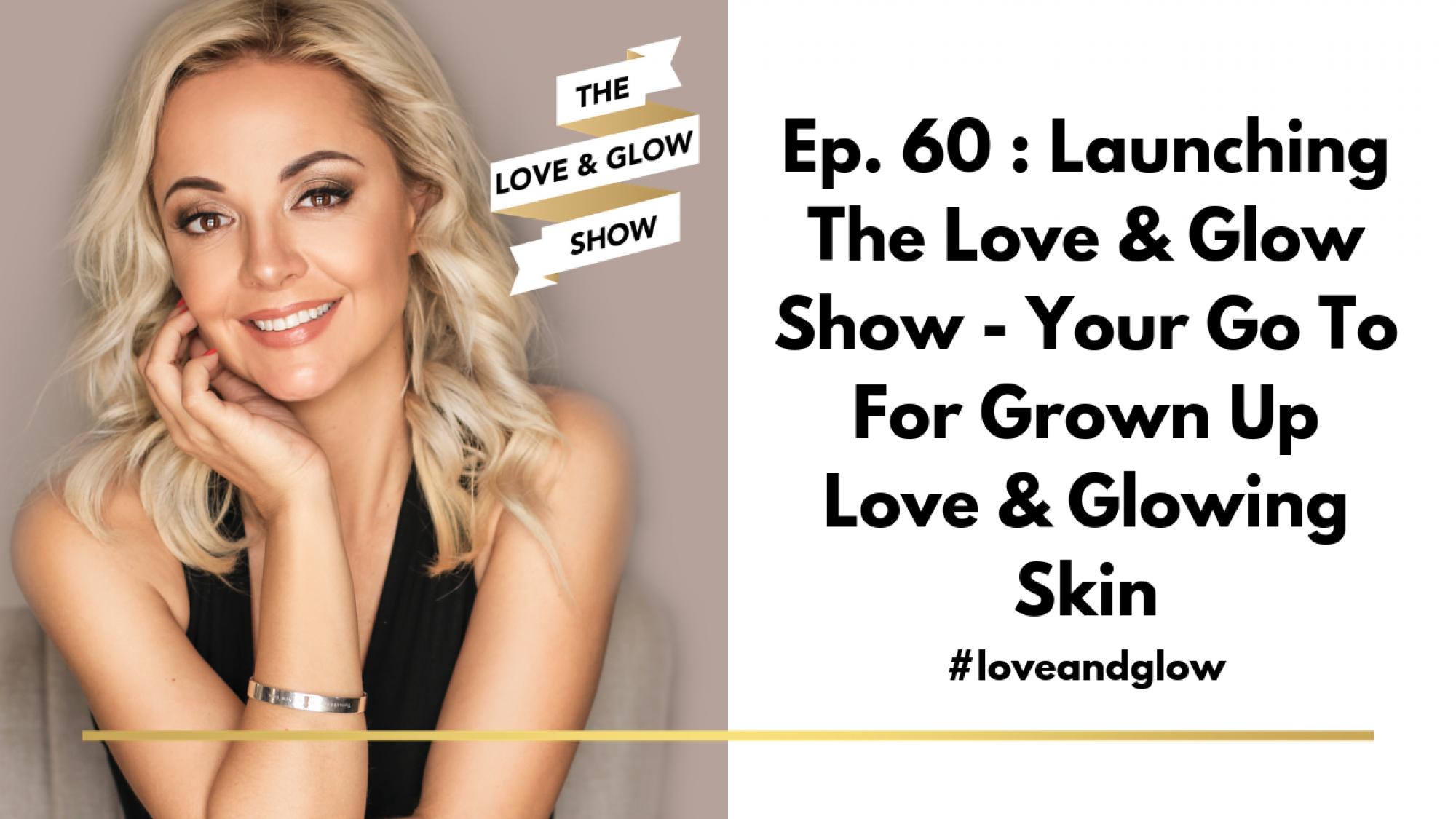 Ep 60 NEW! The Love and Glow Show
Welcome to the NEW Love and Glow Show - Your Go To For Grown Up Love and Glowing Skin - dedicated to help you transform your relationships and bringing you the most current and trusted beauty advice for glowing skin, inside and out.
So today's show is really a bit different - and I'm SO happy to be sharing some really exciting news with you.
If you're a regular listener you will be familiar with my previous Podcast called the Ready for Love podcast that I've been hosting for some time as part of my work as a Dating and Relationship Coach for women.  But over the last year there have also been some wonderfully exciting developments and I've actually launched my own Skincare and Beauty Range called Ané.
This episode is all about how and I why decided to relaunch my previous podcast (Ready for Love) as the Love & Glow Show. 
If we haven't met yet - I'm your host, Ané Auret - Dating and Relationship Coach and Founder of Ané Skincare & Beauty - and I'm so glad you're here.
In the previous version of the show (The Ready for Love Podcast), we talked about love, dating, sex and relationships - and this is still one of my biggest passions and absolute favourite things to talk about.
Alongside this I've also always had a bit of a private obsession with skincare (I'll never forget my 13th birthday when my grandmother bought me my first set of skincare products to cleanse, tone and moisturise) - that sparked a lifelong love for trying new products and all things skin and beauty related.
And since I've launched the Ané Skincare and Beauty range I felt it made sense to bring these two loves of mine together and talk about it in one place.
In a nutshell we're STILL going to talk about:
- how you can have the best relationships, and the best sex of your life,
- how you can heal the relationship with yourself if that is something you feel you struggle with sometimes
- skincare, beauty, products recommendations, routines, self care, wellness from the inside out
- PLUS updates and developments in the skincare industry.
As always it will be a mix between episodes by me - and then also interviews with my amazing line up of handpicked guests across the relationship, skincare, beauty and wellness industries.
Remember to hit the subscribe button so you know when the weekly episode is live on Sunday mornings.
If you're on Instagram or Facebook - come and say hello - we can always there - and - if you have any questions for me please don't hesitate to get in touch,
I always love hearing from you!
Thanks again for being here and we'll speak again next week when I'm going to share with you the one tool that has transformed my relationships, especially my marriage - and how you can easily use it yourself.
Love and Glow Always 
Ané
Links mentioned 
SPECIAL LAUNCH OFFER FOR LOVE & GLOW LISTENERS ON THE ANÉ WEBSITE, AMAZON UK AND AMAZON US STORES 
https://beautybyane.com/pages/loveandglow
Ané Skincare and Beauty  : beautybyane.com
Ané Skincare and Beauty Instagram :  www.instagram.com/beauty_by_ane/
Subscribe & Review the Love & Glow Show in iTunes
Are you subscribed to my podcast? If you're not, I want to invite you to do that today. I don't want you to miss an episode. I'm adding regular episodes to the mix and if you're not subscribed there's a good chance you'll miss out. Click here to subscribe in iTunes!
Also, if you enjoy the Love & Glow Show and you could take a moment to leave a review I would be really grateful.  Reviews help other people find my podcast and they're also really helpful to let me know what kind of content you like and find most useful.
Just click here to review, click on > View in iTunes > "Ratings and Reviews" > "Write a Review" and let me know what your favorite part of the podcast is.
Thank You so much!