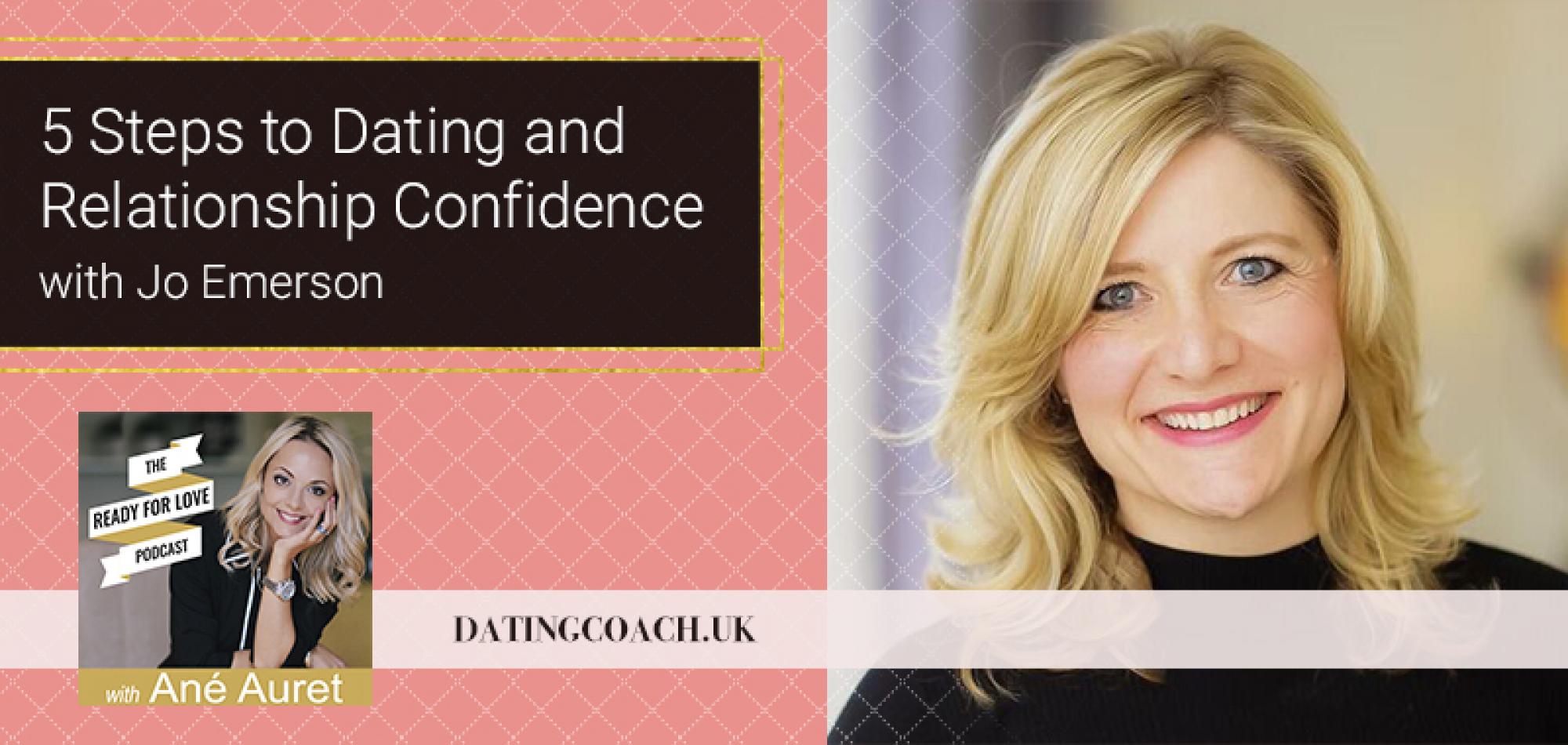 003I: Jo Emerson - Dating and Relationship Confidence
I'm so happy to introduce to you my special guest – my dear friend and fellow coach, Jo Emerson.  This was such a wonderful interview because Jo is so completely honest about the ups and downs of what she's been through to get from a very difficult place after her marriage broke down to where she is now – which she describes as 'happily single' – yet open to the possibilities of meeting somebody new.If you have been through a painful breakup or divorce and struggled at times to get your confidence back on track then do tune in because that is what Jo and I are talking about today.  During the interview she shares with us what it took for her to heal over time while she guides through 5 steps to get your confidence back on track - especially as you navigate through a painful breakup or divorce.It is our hope that you can apply these strategies in your own life and we would love to hear your thoughts.I know that Jo walks her talk. She is a leading Confidence Coach and Human Behaviour Expert, plugging people back into their authentic selves and helping them reach their full potential at home and at work.  She has an incredible world-view of relationships in many different cultures, which has allowed her to see what works and what doesn't on a bigger level.
What we're discussing this episod
We find out more about Jo's personal journey through a painful divorce and finding her way back to a place of being happily single, as well as the biggest things she's learnt about herself as she went through this process.
We talk about the root of true confidence - what true confidence is, and what it isn't. Have you ever thought about what the actual opposite is of being confident? Jo explains this for us.
Jo shares with us 5 ways she has used herself to bring her inner peace and acceptance (all things she has done herself) and creating a deep and lasting confidence in her own life.
'Heal and Feel' Take time to heal - be sad and be mad for as long as it takes in order to get glad.
Take time to learn to be happy alone and rebuild your own life (career, kids, fun, friends), which builds genuine confidence
Take some time to just date for fun!
Decide who you truly want to be with.
Live your life, be open to new experiences and let life bring your partner to you, when you're ready.
The daily choice you can make to make sure you live life confidently
"Love cannot be manufactured. It's a gift that comes along when the time is right."

 
Connect with Jo Emerson
Book Jo for one:one personal or corporate group sessions at www.jo-emerson.comJo's online eCourse, 5 Steps to Lasting Confidence, is available here: www.jo-emerson.com/confidence-courseWatch out for Jo's book, Flying For Beginners - recently published on Amazon.You can also follow Jo on twitter @_JoEmerson_ or Facebook
Subscribe & Review the Ready for Love Podcast in iTunes
Are you subscribed to my podcast? If you're not, I want to invite you to do that today. I don't want you to miss an episode. I'm adding regular episodes to the mix and if you're not subscribed there's a good chance you'll miss out. Click here to subscribe in iTunes!
Also, if you enjoy the Ready for Love Podcast and you could take a moment to leave a review I would be really grateful.  Reviews help other people find my podcast and they're also really helpful to let me know what kind of content you like and find most useful. 
Just click here to review, click on > View in iTunes > "Ratings and Reviews" > "Write a Review" and let me know what your favorite part of the podcast is. 
Thank You so much!