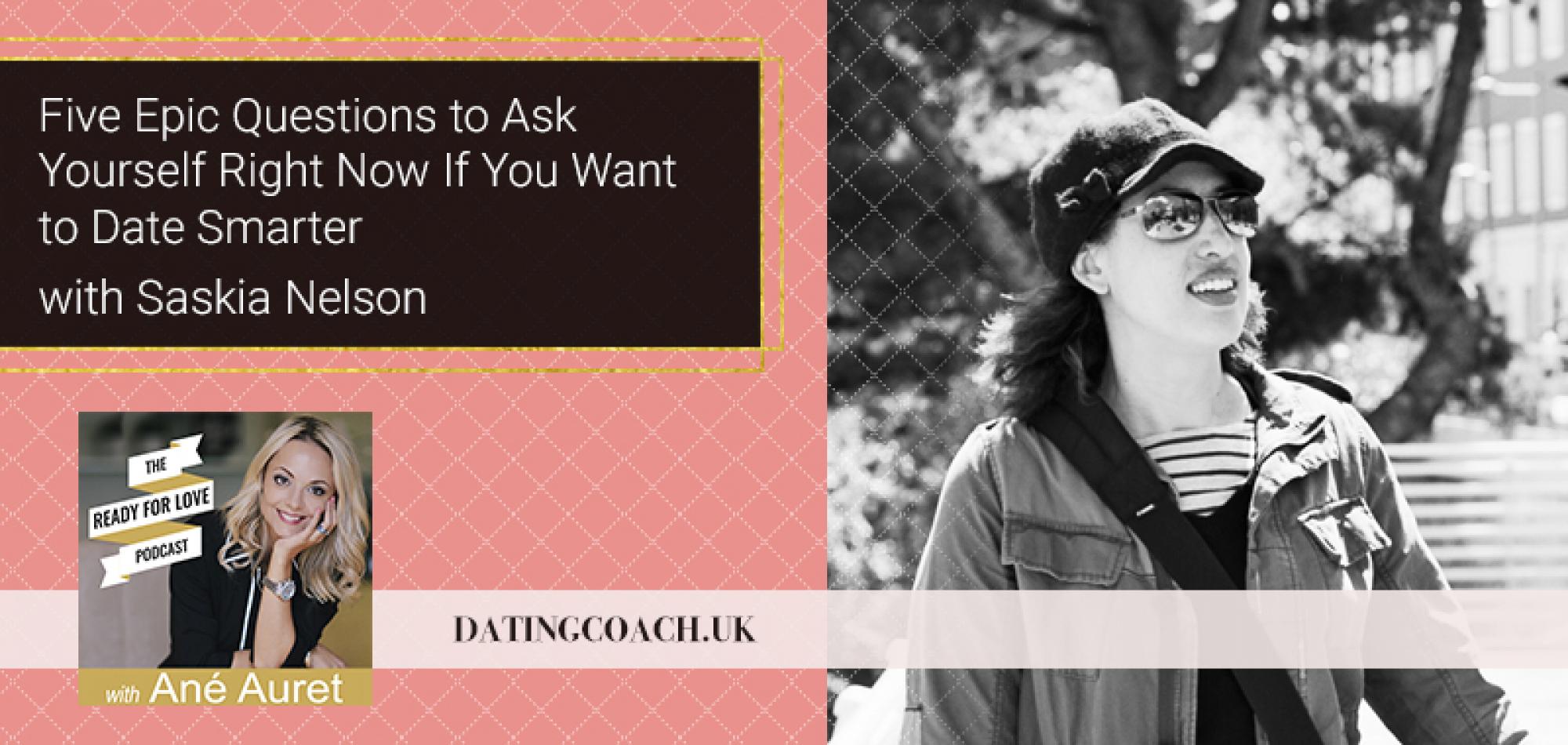 007I: Saskia Nelson - 5 Epic questions to ask yourself if you want to date smarter
Saskia recently wrote a great article for the Huffington post called Five Epic Questions to Ask Yourself Right Now If You Want to Date Smarter - and this interview is all about going into real detail on each of those questions PLUS Saskia shares some really great ideas about online dating profile photos and how to make the best of your profile!But even though we talk online dating, everything Saskia shares is just as relevant to dating and creating a relationship 'offline'.
I read the original Huffington Post article a little while ago, and it was just great to hear it come to life in Saskia's own voice and I appreciate her sharing so much of her own personal experiences. I hope you enjoy it with us!
Just some of what we talked about
How to decide what site(s) to use and the different choices between niche or more general dating sites and whether to choose a paid or free site.
How do you stay motivated while dating online - let's face it, it can get hard at times and I often hear from clients and friends about feeling burnt out by the whole process. Saskia shares her thoughts and how she dealt with it while she was dating online.
Some basic safety tips and other ideas on keeping your sanity!
How to deal with rejection and the importance of having the right mindset when dating - whether online or 'offline'
How Saskia brought together advice from top dating experts across the world to formulate her 5 epic questions - and we go into much more detail on each one.
What's the worst that can happen?
Would I date me?
Am I still only dating my type?
Am I having fun yet?
Am I thinking myself unhappy?
About Online Dating Profile Photos
* Saskia also shares with us really great tips and advice on how we can make the best of your online dating profile and pictures.   Make sure you listen to this and make your profile stand out from the rest!* Ever wondered why you're not getting past the first date?  Something to do with 'unmet expectations' perhaps?  Listen to find out more!
No more excuses for sub-standard online dating profile photos!
SUPER SPECIAL OFFER FOR READY FOR LOVE PODCAST LISTENERS
Listen to the end for a very special discount offer from Saskia for your Hey Saturday photoshoot!
As we're publishing this interview Saskia is in Amsterdam at the European Dating Awards and nominated in 3 categories:
Dating Entrepreneur of the Year 2016
Innovation within the Dating Industry 2016
Best Dating-Related Marketing Campaign 2016 (Saskia WON this one - congratulations!)
Find out more and connect with Saskia
Subscribe & Review the Ready for Love Podcast in iTunes
Are you subscribed to my podcast? If you're not, I want to invite you to do that today. I don't want you to miss an episode. I'm adding regular episodes to the mix and if you're not subscribed there's a good chance you'll miss out. Click here to subscribe in iTunes!
Also, if you enjoy the Ready for Love Podcast and you could take a moment to leave a review I would be really grateful.  Reviews help other people find my podcast and they're also really helpful to let me know what kind of content you like and find most useful. 
Just click here to review, click on > View in iTunes > "Ratings and Reviews" > "Write a Review" and let me know what your favorite part of the podcast is. 
Thank You so much!