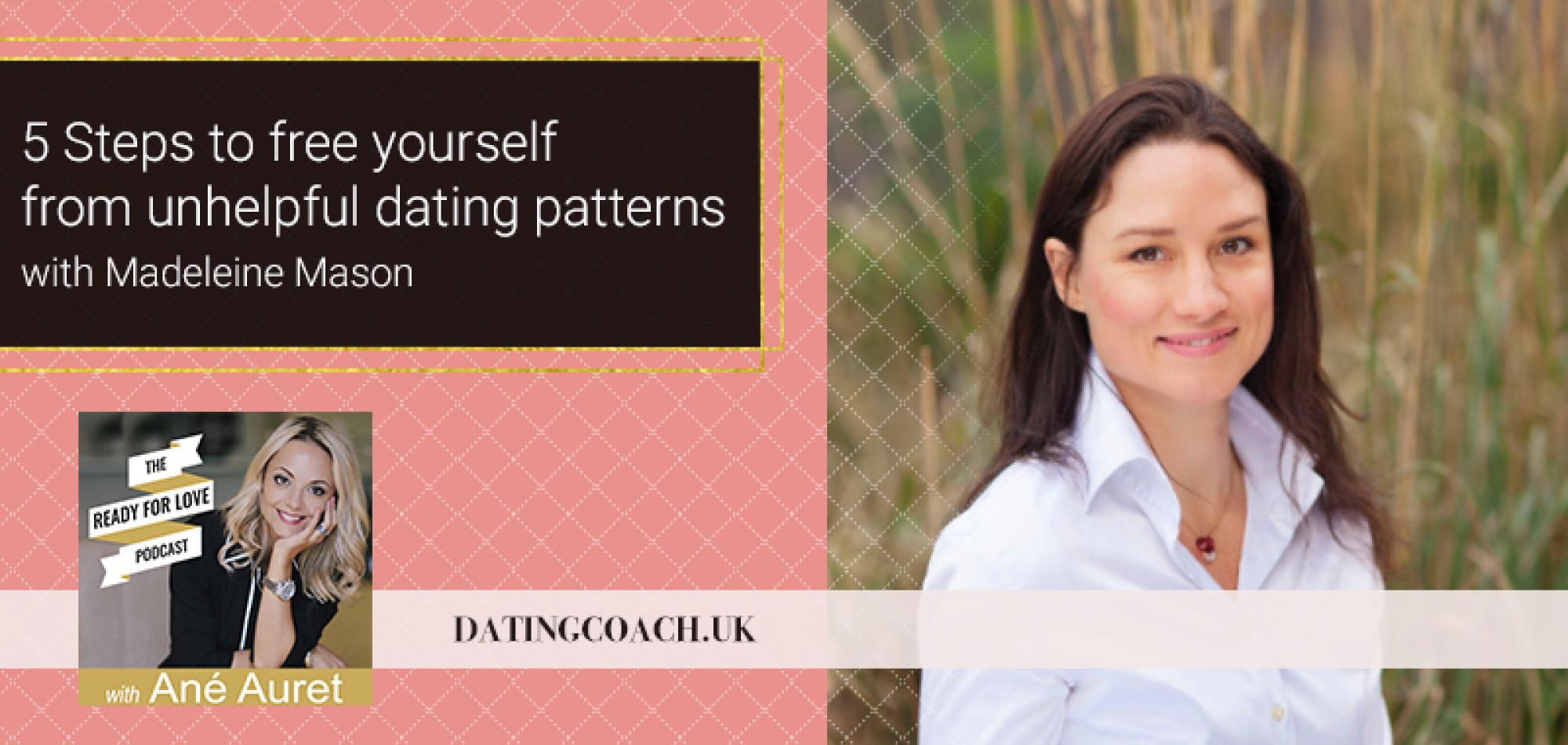 013I 5 Steps to free yourself from unhelpful dating patterns - with Madeleine Mason
What we discuss and some questions I ask
How would you define an unhelpful / destructive chronic and repetitive relationship habits or patterns?
How do we recognise it in our own lives? How do they show up?
What are the deep rooted issues underneath these habits and patterns?
What are some of the most common toxic or destructive patterns you see in your practice?
What are the signs of being in a toxic relationship would you say? How do you know?
5 Steps to free yourself from unhelpful dating patterns
Write down as many things you dislike about dating as you can
Rank them in order of annoyance / frustration (or pick the one that annoys/frustrates you most)
Write down the reasons why you might be experiencing this (what might the true causes of the annoyance or frustration be)
Go through each reason and see what you can do differently about each one
Turn those points into an action plan and implement your changes
Madeleine shares her beautiful definition of love with us: "Ecstasy for the Soul" Love it!Listen towards the end of the episode where Madeleine explains why this is her top relationship tip and how you can actually discover your own assumptions by using the word 'because'.And even though this may sound easier said than done it really can make a huge difference in your love life and relationships.Wishing you all the best on your dating and relationship journey.Look forward to connect with you again next week so don't forget to tune it!
Find out more and connect with Madeleine Mason and the Passionsmiths Team
Tel. +44 (0) 203 726 9415
Madeleine and her team offer private face-to-face and Skype sessions to singles and couples struggling with their love lives.  You can contact them to book a complimentary 10-minute consultation to find out more.
Subscribe & Review the Ready for Love Podcast in iTunes
Are you subscribed to my podcast? If you're not, I want to invite you to do that today. I don't want you to miss an episode. I'm adding regular episodes to the mix and if you're not subscribed there's a good chance you'll miss out. Click here to subscribe in iTunes!
Also, if you enjoy the Ready for Love Podcast and you could take a moment to leave a review I would be really grateful.  Reviews help other people find my podcast and they're also really helpful to let me know what kind of content you like and find most useful. 
Just click here to review, click on > View in iTunes > "Ratings and Reviews" > "Write a Review" and let me know what your favorite part of the podcast is. 
Thank You so much!